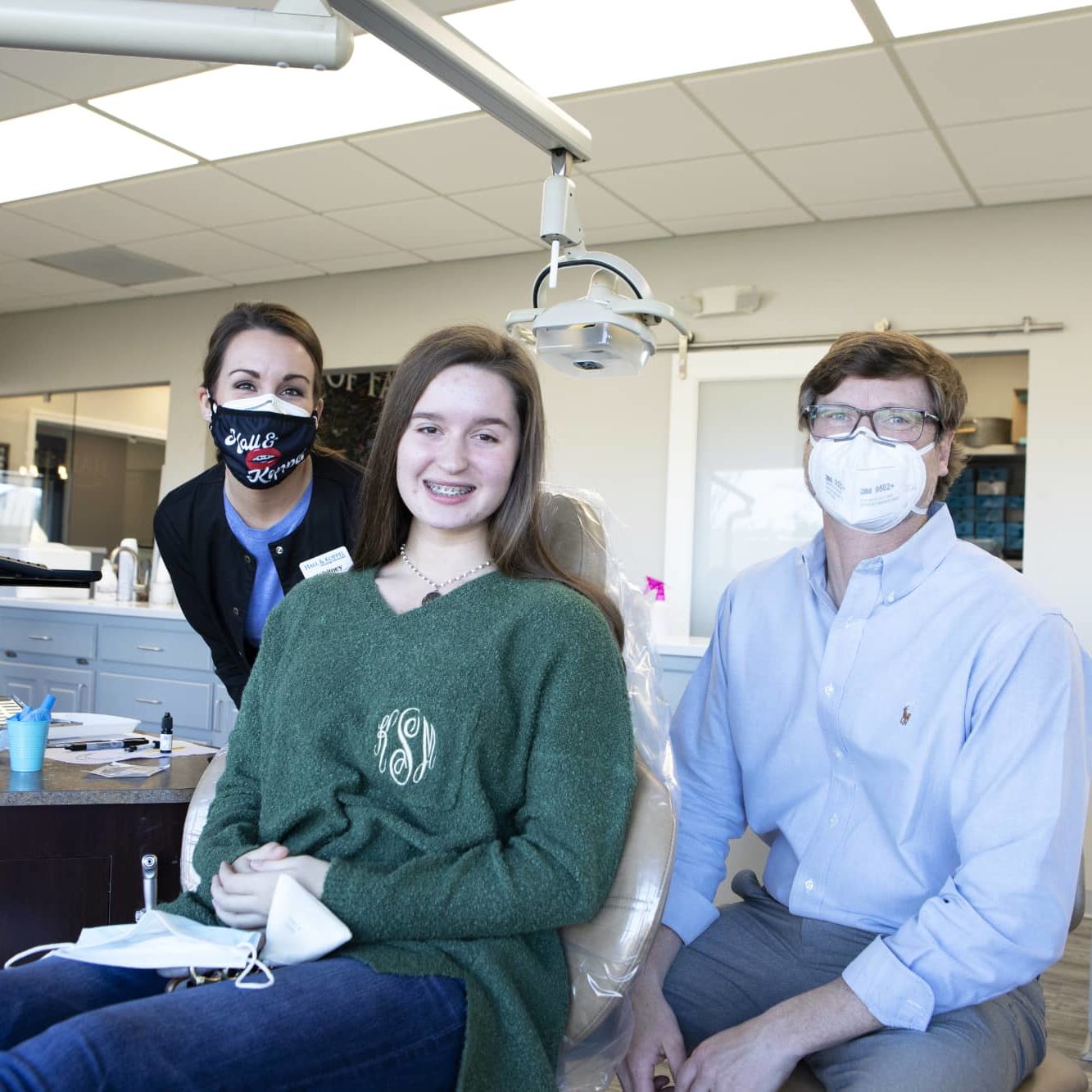 Achieve Your
Best Smile
At Hall Orthodontics, our goal is to provide healthy, beautiful smiles for everyone who visits our office.
Orthognathic surgery can help to correct even the most complex orthodontic cases to give you the smile you've always dreamed of.
What Is Orthognathic Surgery?
Corrective jaw surgery (orthognathic surgery) moves your teeth and jaws into positions that are more balanced, functional, and healthy.
Whether your needs include improving your bite and function, appearance, or speech, corrective jaw surgery can have a dramatic and positive effect on your outlook on life.
Our Hot Springs team is ready to work together with you to help you achieve a beautiful, functional, pain-free smile that will last for the rest of your life.
Who Needs Corrective Jaw Surgery?
In some cases, your upper and lower jaws may have grown at different rates. Injuries or birth defects may also affect jaw alignment. While orthodontics can usually correct problems when only the teeth are misaligned, corrective jaw surgery may be necessary to correct any misalignment of your jaws.
If you suffer from any of the following conditions, you may be an excellent candidate for corrective jaw surgery:
Difficulty chewing, biting food, or swallowing
Chronic jaw or jaw joint (TMJ) pain and headache
Excessive wear of the teeth
Open bite (space between the upper and lower teeth when the mouth is closed)
Unbalanced facial appearance from the front or side
Facial injury or birth defects
Receding chin
Protruding jaw
Inability to make the lips meet without straining
Chronic mouth breathing and dry mouth
Sleep apnea (breathing problems when sleeping, including snoring)
How Jaw Surgery Can Help You
Dr. Hall use the latest in digital imaging technology to demonstrate the overall functional and aesthetic benefits of orthognathic surgery. Computerized treatment planning minimizes treatment times, recovery periods and the overall efficacy of your surgery.
State-of-the-art materials such as titanium plates and miniature screws provide stability, strength and predictability to your treatment.
These advances in technology, procedures and equipment reduce your post-surgical recovery time, allowing you to return to your normal routines soon after the surgery.
Learn If You're a Candidate for Jaw Surgery
Receiving treatment to correct any of the above conditions is a commitment not only to your health, but to your happiness, too. Surgery and orthodontic treatment may take several years to complete, but the undeniable results will last you a lifetime.
There is no reason to live with painful, uncomfortable jaw conditions. Contact Hall Orthodontics to learn if jaw surgery is the best treatment option for you, your needs, and your smile.